Hello from Champaign, Illinois! I'm here to do my show as the opening of the Illinois High School Theater Festival. I have to do it twice in a row because there are so many kids at the conference; each show will have an audience of 2,000. Yowza!
I'm really going to have to work to fill the room…my acting is usually extremely subtle and more suitable for close-ups. After the conference, I hightail it to Florida to do a show with Jessie Mueller at the Parker Playhouse and then I come back to NYC to do a show with Kelli O'Hara on Monday night January 14 at the Town Hall. I had such a fun interview on NBC to promote Kelli's show. Watch here!
As you can see, they asked me how I planned to surprise Kelli during the show (because I surprised Audra during my last show by bringing out the score to Evita and making her belt it out). My Kelli surprise relates back to the time we did our show in Vegas; Kelli had told me she grew up wanting to sing like Patsy Cline so I immediately forced her to sing "Crazy" with no rehearsal. She sounded amazing, but kept complaining she didn't know the lyrics. So, I told the NBC hosts that this time I was going to print out Patsy Cline songs so she'd have no excuse not to haul out a few.
As I was saying this, I was thinking, "Hm…where's the surprise if I'm saying it on TV?" Then I thought, "Oh, please. Kelli's in rehearsal for Kiss Me, Kate, she definitely won't be watching this." Then, it slipped my mind and I not only posted the clip, but I also tagged her. I would be a horrible spy. She immediately tweeted that she watched and she knows what's coming, so now I have to come up with another way to surprise her. How did Allen Funt do it? And, for you readers younger than 80, how did Ashton Kutcher do it?
A few months ago, I did a benefit for Shane's Inspiration, an organization which builds playgrounds accessible to all kids. I never thought about what it's like to get into a sandbox if you're in a wheelchair and I never thought how isolated kids with special needs must feel if they can't participate in something as basic and playing with other kids. Find out more at ShanesInspiration.org.
Anyhoo, the benefit was amazing and one of the people I met was Evan Ruggiero. I had him on my SiriusXM show last week to tell his story and sing.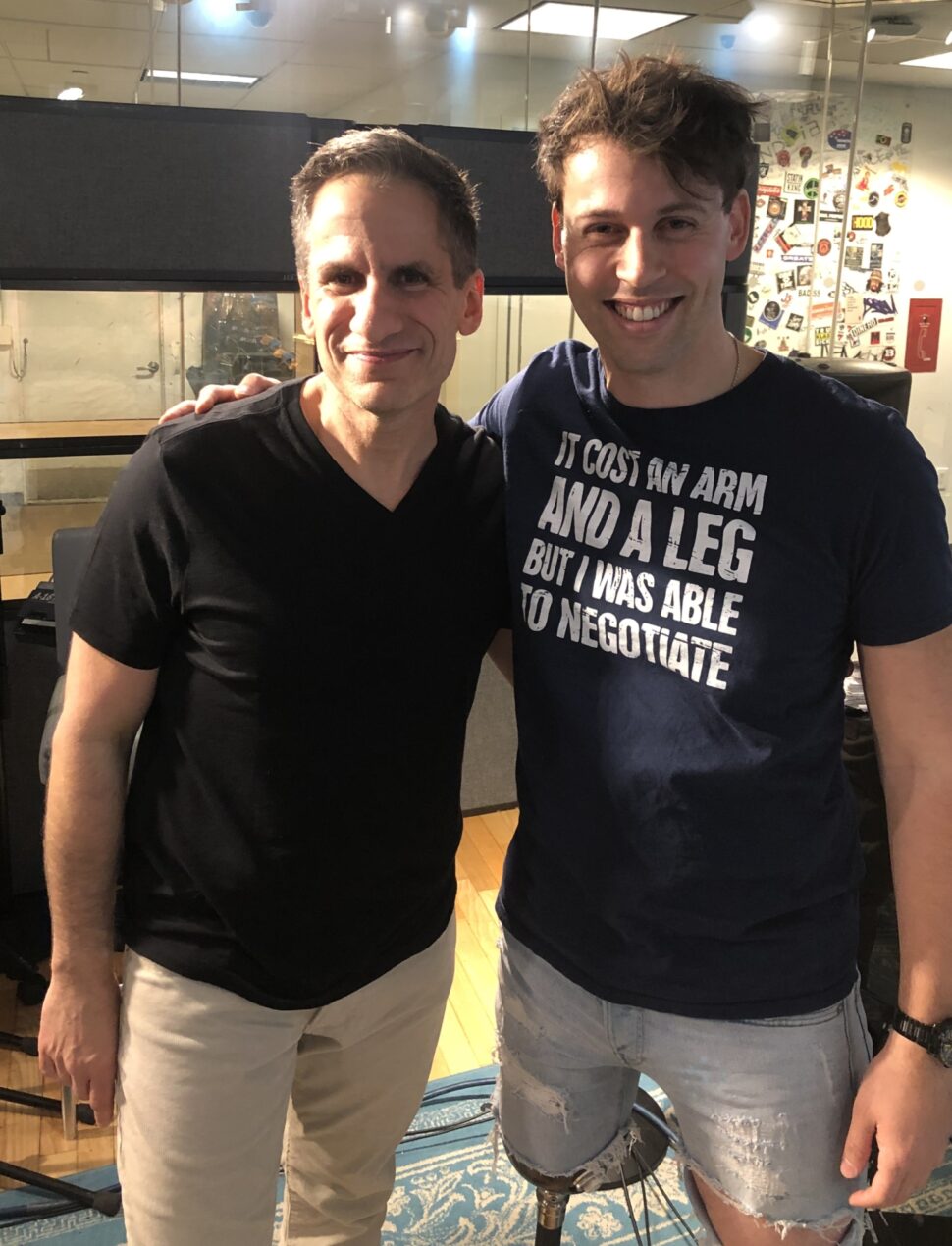 Evan grew up singing and dancing and became a musical theatre major at Montclair State University. When he was 19 and a sophomore, he felt some pain in his leg that he assumed was a dance injury. After he got an X-ray, his doctor told him he had to go to Sloan Kettering. He got a biopsy and was diagnosed with bone cancer.
In order to keep his leg as functional as possible, but still have the cancer taken out, he had lots of experimental surgery. It involved having different bones taken out from his other leg and put into the leg they wanted to save and various muscles taken out and repurposed (his lat and calf) in order to keep his leg. Seven months later, the cancer came back and they then told him they had to amputate. One option was to turn his foot around (which he said some people have done and danced again!) but he opted for an above-the-knee amputation. In a foreshadow-y moment, Evan remembered that when he was 16-years-old, he saw a video of a dancer called "Peg Leg" Bates who had a peg leg but was a major tap dancer. He never knew he himself would eventually adopt that style. (Watch Peg Leg dance on Ed Sullivan here.)
He then had 16 months of chemo but, horrifically, the cancer still metastasized and he wound up having eight tumors removed from his lungs. P.S. All throughout this ordeal, he stayed in school! The big school musical was Sweet Charity and he felt he was perfectly cast as Herman, the cranky old owner of the dance hall. Not only was he grumpy all the time, he was able to easily look old because he was bald! After he finally recovered, he had a peg leg made for himself. He plays lots of instruments and thinks of his body as an instrument; specifically, the peg leg is the bass drum and the other leg was his snare and tom tom. He based some of his steps on "Peg Leg" Bates, but created his own style, especially because Peg Leg was a below-the-knee amputee and Evan is above. He put up some fun YouTube videos of himself dancing and not only did they get seen by tons of people, but it led to him being invited to be on Ellen! Evan has a "normal" leg prosthetic as well, but he wore his peg leg on the show. When he sits down, it sticks straight out and he (and quite frankly, the producers) were nervous that when he turned, he'd knock over the cups on the Ellen table in front of him. So, when you watch this, notice that the set has been moved away from him.
Evan's Ellen story is a much less diva version of Barbra Streisand when she came on The Rosie O'Donnell Show; this was right when I began working there and I remember how the entire set was reversed because Barbra felt she looked better from the other angle. P.S. More power to her! I wish I knew my best angles. I'm constantly seeing photos of myself online and I immediately pray they will bring The Swan back to TV so I can have everything changed. Here's Barbra!
Evan really wants to perform on Broadway and the good news is, there are more opportunities for differently abled actors than ever before. But, boy, it's slow going. Ali Stroker became the first person to need a wheelchair for mobility in a Broadway musical (back when she did Spring Awakening) and now she's about to star as Ado Annie in the critically acclaimed revival of Oklahoma! opening soon on Broadway. But there are plenty more talented people who want to be onstage!
One of the main problems is, it's difficult for them to replace an able bodied person in a musical (if there's dancing) because the role would have to be re-staged. But it can be done! And, they can start originating roles in readings and workshops! And, Evan reminded me, they can replace in the plethora of shows that don't need people to do specific dance moves. There's no reason why he couldn't have replaced in a show like Les Misérables. Or basically any play. My point is, let's start opening up the talent pool on Broadway!
Evan performed his sassafrass version of "New York State of Mind" for us at SiriusXM. I love his riffs (and his tap break!).

And finally, I got a lovely letter from music director Michael "Koz" Kosarin! Years ago, I had one of my comedy idols, Sarah Silverman, on Seth Speaks. (I'm listening to her audio book right now. SO fantastic!)
Anyhoo, I knew that she loved musical theatre, so we wound up doing an impromptu medley at the SiriusXM studio, which was then posted on YouTube. (P.S. Only Sarah Silverman can do a Broadway medley with me that has to be labeled "explicit" on YouTube!)

Anyhoo, Koz wrote that he was in charge of arranging/conducting her song for Ralph Breaks The Internet and he used the video footage to figure out what her range is and decided the key. Yay! I've made it in Hollywood! Here they are in the studio.
Peace out!