Broadway favorites were dressed to the nines for the 75th Annual Tony Awards, held June 12 at Radio City Music Hall. Pulling together looks as eye-catching as those that often grace Broadway stages, these stars brought all the drama usually reserved for the boards right down to the red carpet entrance...or in this case, the silver carpet.
From neon colors to capes and cloaks, these are some of the most dramatic looks seen on Broadway's biggest night.
1. L Morgan Lee brings a pop of Pride to the red carpet with rainbow sneakers by Betsey Johnson under a dress by Christian Siriano.
2. Antwayn Hopper celebrates the 75th Tonys with 70s disco style by Aishwa McShaw.
3. Kara Young shines in a two-piece copper ballgown by Christian Siriano.
4. Cynthia Erivo poses in an all-white ensemble with a fairy godmother-esque cloak by Giambattista Valli Couture.
5. Shoshana Bean has an Angelina Jolie moment in a black dress and thigh-high slit by Christian Siriano.
6. Stained glass meets animal print for Sarah Paulson's uniquely silhouetted dress by Moschino.
7. Ian Paget goes for gold in a crushed velvet suit by Lanvin.
8. Animal print peeks out from under Michael James Scott's light green suit and black peaked lapel by Dolce & Gabbana.
9. Lynn Nottage shows the power of simplicity in a pink dress by Roksanda and layered necklace by Adele Dejak.
10. Michael R. Jackson gives us a twirl in a pink cape and black suit.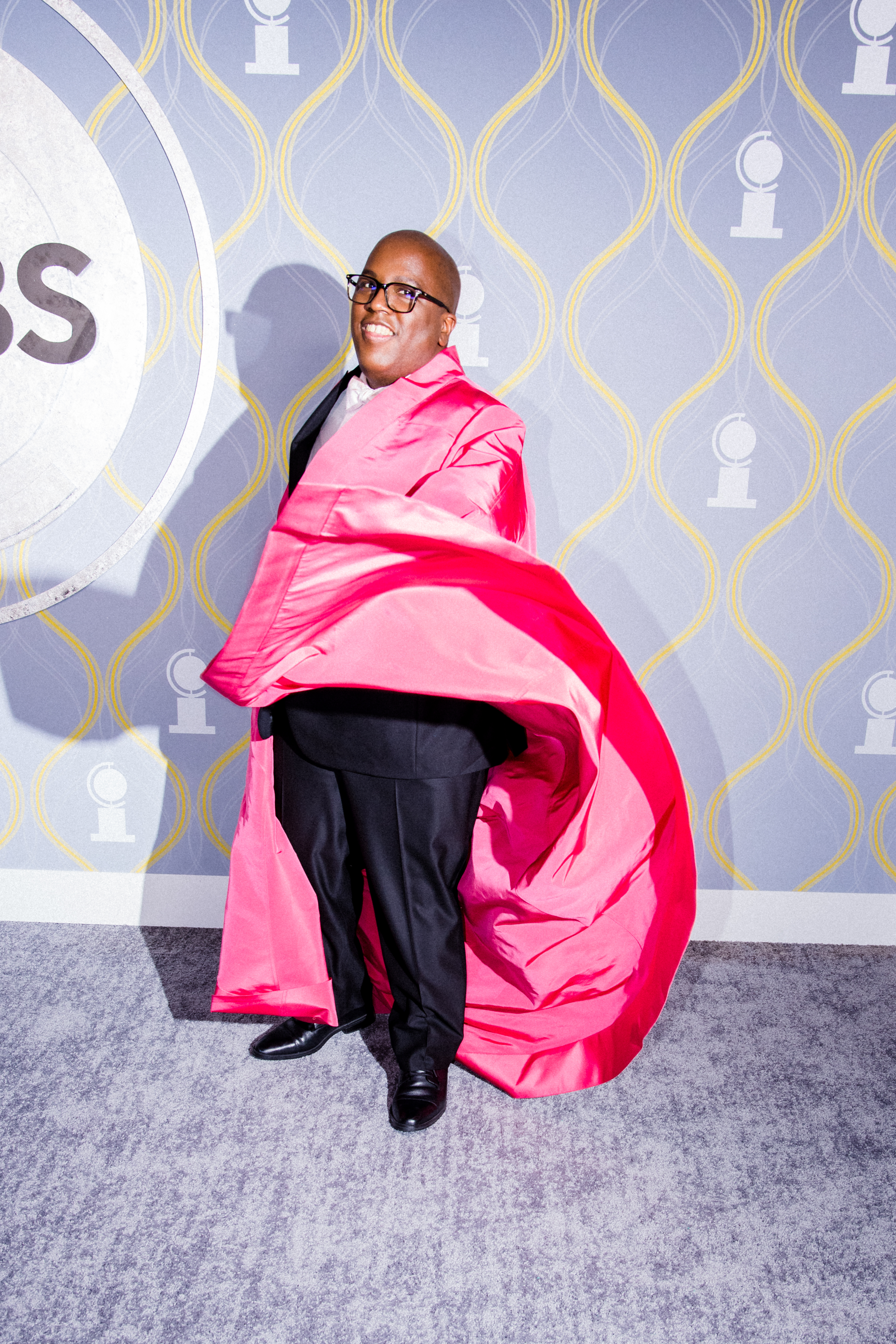 11. Carmen Cusack's look recalls Art Deco glamor with embellished dress by Nakeem Khan.
12. Jordan Roth accessorizes his oil slick dress with silver fingertips by Luchen and a braided ponytail by Orlando Pita.
13. LaChanze glows in a neon yellow halter dress by Karen Sabag.
14. In dark magenta, Christina Anderson goes classic with a double-breasted suit.
15. Joaquina Kalukango glitters in green and gold in a dress designed by her sister, Rachel Kalukango Harris, with a braided updo by Tish Celestine.
16. Braids also accent Billy Porter's metallic suit by Dolce & Gabbana and Eva Reign's camel-colored mini dress by Christian Siriano.
17. Gabby Beans graces the carpet in a lime green gown and matching cape by Romana Keveža.