*
Jelly's Last Jam was the first musical written and directed by an African American that was not simply a toe-tapping entertainment with happy, singing people of color. It was instead a biography of Ferdinand Joseph LaMothe, aka Jelly Roll Morton, who not only proclaimed himself as the inventor of jazz but as having ancestry straight from the shores of France.
Jelly's Last Jam was akin to a Brancusi sculpture of 50 years in the life of an arrogant, racist, braggadocio genius. It is two hours of intricate character study of a man, a people and an era. Says writer director George C. Wolfe (Angels in America; Bring in 'Da Noise, Bring in 'Da Funk,), "Morton was an American who proclaimed himself pure. But there is no purity in American. We are all mutts. I was fascinated by the absoluteness of his declaration." The musical delved into the social issue of race and specifically skin color and the ways in which Blacks segregate themselves within their own community: a caste system based on melanin.
But Jelly's path to Broadway and multiple-award winning fame was as a circuitous as Morton's life. The original producer, Tony winner Margo Lion (Hairspray; Caroline, Or Change) optioned the material based on a series of 1938 interviews in the Library of Congress between Alan Lomax and Jelly Roll Morton. Says Lion, "I love New Orleans. I planned to do a light, entertaining musical that explored the origins of jazz which I think is the only original American art form. Well, maybe rap is another one too."
Lion approached a number of writers over the next four years. None were able to tackle the immensity of the recorded interviews. "I even hired August Wilson, who had only seen one musical in his life: Zorba. August wrote me a beautiful poetic play. It was about a stranger who came to town and every five pages or so there would be a cluster of Jelly's music." That wasn't what Lion had in mind. In 1982, Lion met Pam Koslow-Hines who came on as co-producer. At that time, Pam's husband, Gregory Hines, was looking for a vehicle for himself to direct. Greg ultimately decided that he wanted to play the role. So Lion and Koslow continued their search for a writer and a director. Then in 1985, the award-winning composer, arranger and orchestrator Luther Henderson (Funny Girl, Lena Horne: The Lady and Her Music) joined the team.
I had the privilege of working with Luther on both Jelly and Play On. On Jelly, he tried to train me out of my natural style of back phrasing. Then when we worked on Play On seven years later, I rehearsed "Nuthin But The Blues" as a monologue and Luther brilliantly orchestrated to my acting. Luther could orchestrate the phone book. For Lion, Luther's addition to her team was the game changer.
Susan Birkenhead (Working, Triumph of Love), award-winning lyricist for Jelly, agreed. Susan recalls, "When Margo hired me, I was setting lyrics to existing recordings of Jelly's songs. The music was such a rich and complex arrangement of jazz instrumentation that I sometimes had 57 lyrics to a measure. Luther re-composed the music. That's really the only way to say it. He re-composed the music and transformed it into a dramatically viable score."
But by 1989, Margo still didn't have a book and she'd lost her director, Jerry Zaks to another project. Lion said, "I had given up. Then, Richard Kornberg, who was the press agent for Joe Papp at The Public, suggested I check out this young African-American playwright who had just written and directed a show called Spunk. From that moment I knew George was the one."
I first met George C. Wolfe in 1984. He was a graduate student at NYU. A mutual friend, composer and musical director, Kathy Bostic told me, "You have to meet my friend George. He is the most brilliant writer I have ever known." I met George and read excerpts of what would become "The Colored Museum," and knew I was in the presence of genius. Seven years after that first meeting I had the privilege of portraying Sweet Anita in Jelly's Last Jam.
Jelly was set in "The Jungle Inn - a lowdown club somewhere's 'tween Heaven 'n' Hell on the eve of Jelly Roll Morton's death" as Jelly lay on his hospital death bed remembering the good and bad times, the friends, the enemies, the loves lost. The production began at the Mark Taper Forum, where Gordon Davidson was the artistic director. It starred Oba Babbatunde as Jelly Roll Morton. The musical then transferred to the Virginia Theater on Broadway in 1991. There, the immortal Gregory Hines (Eubie!, Sophisticated Ladies) inhabited Jelly.
Gregory infused his own inimitable hoofer style with George's concept of tap dance as a metaphor for interior monologue. Jelly was groundbreaking in its structure and use of tap dance for dramatic purpose. A young Savion Glover (The Tap Dance Kid; Bring in Da Noise, Bring in Da Funk), played the Jelly in his youth. The show, written and directed by George C. Wolfe, gave audiences the chance to witness jazz improvisation at its finest. I caught up with George C. Wolfe, who reminisced about being invited to the "party," saying while laughing, "When I came to New York, I told everyone I was a writer/director and they said 'NO.' There was a rule. You could be one or the other. They ordained me writer. But then I won the Obie for directing Spunk and the rules changed." George mused, "I had always been obsessed with New Orleans. It's both a European colony and a Caribbean island existing in the same space."
Margo Lion remembers that the Chimney Man played by Keith David ("There's Something About Mary," "Crash") and later by Tony winner Ben Vereen (Pippin, Jesus Christ Superstar) was the first character George created for the musical. She said, "We met with Joe (Papp) who said 'George, you are the Chimney Man in this story.'"
George told me, "I viewed black musicals before Jelly as a form of cultural strip mining. The exterior remained but all the culture that signified where the people had come from and their connection to the earth was absent."
Tony-winning actor, writer, director, Ruben Santiago-Hudson (Seven Guitars, The Piano Lesson) says, "Jelly was the first time I experienced a musical that explored the complexity of black life. George encouraged us to reveal the power of our beauty, our intellect, our pain, our pleasure. George dared us to be as beautiful and as brash as we truly are."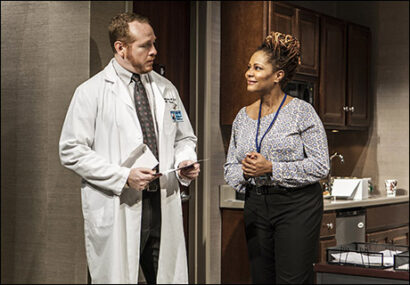 George said, "Jelly more than any black musical before it celebrated the majesty, the purity, the joy of so many artists who are unable to fully embody these same qualities in their own lives." Jelly gave us the grit and the gravy of American black life.
George has been my mentor and friend for 30 years. I won my Tony Award for Jelly's Last Jam and was nominated again with George at the helm of Caroline, or Change. Ask anyone who has ever worked with George and they will tell you that it ruins you for life. Never after that will you have as much fun, learn so much and be so challenged to be your most brilliant self except in the presence of this man who asks the highest of himself at all times. In crafting Jelly, George asked himself, "Where does all the hurtin' hatin', lovin' and losin' go? If music bubbles up, how does it happen? It's all in the music its in the art. The best of any artist is in their art." George changed the face of musical theatre by bringing drama and social commentary to the musical theatre genre. So we celebrate Black History month honoring all the African-American artists who collaborated in the creation of the landmark musical of the 1991-92 Broadway season: Jelly's Last Jam.