Jessica Stone can pinpoint the moment she decided that she was done with acting, and it involved sailors. It was during the 2011 Broadway revival of Anything Goes, directed by Kathleen Marshall. Sure, she starred alongside Sutton Foster and Laura Osnes. And she had a vampy, crowd-pleasing number, "Buddie Beware," where she was carried around the stage by six dancers dressed as sailors. But during that show, she had a realization: "I don't love this. I kind of wish I was just in pajamas right now. I don't really want to be on stage singing and dancing."

Was it because of Marshall's notoriously complicated choreography? Stone laughs, answering, "I think about poor Kathleen Marshall just putting up with me…But I was going through a big transition. My kids were two and four. And I was dealing with a lot of stuff with them developmentally." So Stone left acting behind and plunged headfirst into directing full-time. Now she's received her first Tony nomination for her direction on Kimberly Akimbo, which has received eight nominations, including Best Musical.
She also admits that as a parent, a director's schedule is easier to manage than an actor's (she should know, her husband is actor Christopher Fitzgerald). "It's a happy result that the schedule is a little bit more family friendly for me," she explains. "We definitely have had periods of time where he's in a show and he's working every night and on the weekends. And then if I have to be out of town for a couple of weeks…there's been work that he's turned down, just so we can have somebody at home with the boys."
After directing regionally and Off-Broadway in the last decade, Stone is very honest in saying that Broadway wasn't the plan for her (even though she had been on Broadway numerous times as an actor, starting when she played Frenchy in Grease in 1994).
"I didn't go to school for [directing]," Stone explains. "So,when I was allowed to do Shaw and Shakespeare at the Old Globe, and work on things all over the country, it was like my own form of grad school. I didn't really think about it in terms of, oh, someday I want to direct on Broadway. It's more that I just wanted to keep doing it." She then adds, deadpan, "I know that sounds like false bullshit."
That mix of earnestness with an acerbic edge is why she and David Lindsay-Abaire get along so well. So much so that when the playwright saw her direction of his play Ripcord in Boston in 2017, he asked her to come onboard to a project he was developing with Jeanine Tesori: the musical adaptation of his play Kimberly Akimbo.
As Lindsay-Abaire describes it: "My work and Jeanine's work, as well, can be really tricky to maneuver because of the tone of it—it's really funny. But I've seen lots of shows directed by people that are like, 'Oh, it's really funny. So we'll make it wacky.' And then they lose the underpinnings of the show that make it grounded and serious and emotional. But Jessica knew how to maneuver both of those things—that it could be funny, and it could be moving at the same time. And so when I saw that production in Boston, I thought, 'Oh, she's a keeper. She gets it in a way that very few people do.'"
Even though she didn't go to school for directing, Stone amassed a group of people attracted to her point of view. As an actor, she became friends with directors, who let her assist them in between acting jobs—she assisted the late Nicholas Martin when he did Match on Broadway in 2004. Martin was her mentor and in 2010, he asked her if she wanted to perform in a production of A Funny Thing Happened on the Way to the Forum at Williamstown Theatre Festival. But Stone balked. She found the female characters in the show to be one-dimensional, and instead suggested an all-male production to alleviate the production's gender issues. Stone admits this of her younger self, "I'm a lippy actor; I just have a lot of ideas." To her surprise, Martin gave her the directing job for Forum, where she cast all men in the roles (including Fitzgerald). It was her first directing job.
It's the relationships and exchange of ideas that Stone finds most fulfilling about being a director. "I enjoyed having more say in the story. And I enjoy collaborating with the army of people that it takes to do a show: all the designers, producers, writers, and actors. I love being with all those people and figuring out how to tell the best story." She then adds, for emphasis, "I love it."
A particularly fun case of theatrical back-and-forth: the much-discussed ice-skating scene in Kimberly Akimbo, where the cast of the show actually skate across the stage while wearing real ice skates. Kimberly Akimbo has always opened at an ice-skating rink and the midpoint of the show was always at the main character Kimberly's 16th birthday party. But it was actually Stone's idea to have Kimberly's birthday party at the ice-skating rink. Explains Stone: "It's the fragility of being right on that blade. That's what our show is, tonally, it's like, is it really sad? Is it really funny? What is it? And the fragility that at any minute, you just could wipe out."
Anyone can have an idea, but it is up to the director to help figure out how to execute it (even when their collaborators question the decision). Stone knew that there was a synthetic ice called PolyGlide (which was featured on Shark Tank), which could be a solution. But she didn't know if the actors could also walk across it in regular shoes for the rest of the show—and there was the temptation to make it a roller-skating moment since that was easier.
Then during the COVID-19 pandemic, Stone called PolyGlide founder Jim Loughran with her questions. "He said, 'Oh yeah, you can walk on that with regular shoes. And then it just behaves like ice when you need it to behave like ice,'" Stone recalls. Kimberly Akimbo's choreographer Danny Mefford and set designer David Zinn tested out the PolyGlide at their facility in DUMBO and gave their thumbs up. "We were like kids in a candy shop. I remember calling David and Jeanine and being like, 'I think we figured it out!'"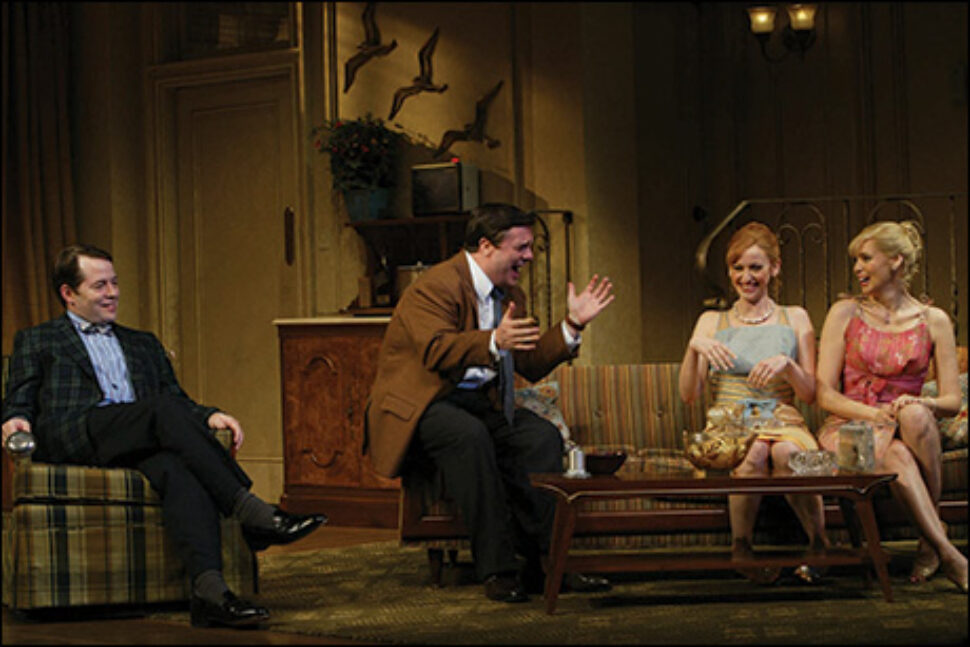 With her Tony nomination, Stone is going through another creative metamorphosis. When she spoke with Playbill, Stone was in Atlanta where she was directing the new Broadway-bound musical Water for Elephants at the Alliance Theatre, based on the novel of the same name. It's a big show: there's puppetry, circus acrobatics, a 26-member cast. She admitted that because she's been in tech, she hasn't been able to go to all of the Tony Awards nominees events, and she doesn't know what she'll be wearing to the awards itself.
But Stone isn't too worried. After all, she's already in her happy place: she has a show to do. "I was doing an interview for Elephants and the person asked, 'What has this process taught you?' And it actually made me tear up a little bit. It's taught me to dream big. And I realized in that moment that that does not come easily—the idea that I even can dream big." Stone then switches form the jovial tone she was using to one that's more pensive. She recalls how, a couple years back, her agent was pitching her for a theatre project and the response from the producer was, "I think that's too big for her."
But at the same time, Stone is buoyed by all the diversity she's seeing on Broadway—not just on stage, but off stage. "I think it's changing. And we're seeing more and more women being given these big opportunities. I look around right now and see so many, amazing, female directors—let's just call them directors…We're seeing more women, we're seeing more artists of color. I think everyone's trying to really hear the call and rise up to the moment a bit more." Then Stone stops herself, realizing she's been speaking at length for a while, then exclaiming with a laugh, "Oh my god, my brain right now! You could tell I'm in tech."