"Genius." That's the descriptor both Jodi Benson and Don Hahn repeatedly settled on when discussing the late Howard Ashman, the lyricist, bookwriter, and director responsible for the Off-Broadway hit musical Little Shop of Horrors and the films largely credited with kicking off a renaissance in Disney animation: The Little Mermaid, Beauty and the Beast, and Aladdin.
We spoke with both Benson and Hahn over the phone on the occasion of Howard, a new documentary about Ashman's life and work, premiering April 22 at the TriBeCa Film Festival.
The film, which covers Ashman's life from his early years in Baltimore to his New York theatre career and time at Disney, is directed by Hahn and heavily features Benson, both of whom worked closely with Ashman near the end of his life; Benson starred in Ashman's 1987 Broadway musical Smile and voiced Ariel in Disney's The Little Mermaid, while Hahn produced Beauty and the Beast.
Though Ashman's primary credit on his Disney films is as lyricist (to music written by Alan Menken), Hahn spoke to how Ashman had an impact on Disney animation that went far beyond the films' handful of songs.
"[The lyrics were] almost the last thing he did," shared Hahn. "He was so central in sitting down at a table and going through 'who are these characters, and how can we flesh them out and what do they want?'" Hahn pointed to decisions like the creation of the enchanted household objects in Beauty and the Beast—which not only provide comic relief but are actively involved in the central plot since they too yearn to be human again—as the fruits of Ashman's storytelling brilliance.
A lifelong theatre fan and scholar of classic musicals, Ashman was vital in shaping the way movies like Mermaid and Beauty used music to tell a story. Howard features footage of a 1987 lecture Ashman gave to a group of The Little Mermaid's animators in which he explains how a song can go beyond mere diversion and entertainment and exist as a tool to move the plot forward and dig deeper into a characters' emotions.
Hahn recalls Ashman continually going back to classic musical theatre as a reference point when hashing out the plots Mermaid and Beauty.
"He would not just say 'this is a scene where they consummate their love.' He would say, 'oh, this is King and I, so they have to dance in a ballroom,' or 'Gaston is like Miles Gloriosus in A Funny Thing Happened on the Way to the Forum, so it has to be that.' And we would go look at it, because we hadn't seen it and you go, 'That's Gaston!'
"His references were so smart and instructive because we were just a bunch of cartoon kids from California, and working with this encyclopedic knowledge of Broadway was like going to school for us."
There's no surprise in finding a heavy influence from classic musical theatre at the heart of these films; New York Times theatre critic Frank Rich famously called Beauty and the Beast's score the "best Broadway musical score of 1991."
Benson, on the other hand, was well-versed in musical theatre when she began working with Ashman. She was already a fan of Ashman and Menken's first big hit musical, Off-Broadway's Little Shop of Horrors, and found herself scared to be in front of Ashman when first auditioning for Smile.
"I was a little bit scared, a little bit overwhelmed, and incredibly nervous," remembered Benson. "But very quickly within that timeframe of singing 16 bars and starting to read scenes, I could see that he was an actor's director. He was a gifted actor, and knew what it felt like to be in my position. Then all that fear just sort of dissipated and you could sense right away that he was on my team."
Benson remembers a protective and collaborative spirit continuing between her and Ashman as they worked on Smile, which ultimately opened on Broadway to negative reviews and a run of just a few months.
"When the show closed, it was shocking and devastating. But Howard—who was moving into this whole area with the Disney films—out of his kindness and empathy for what [the cast of Smile] was going through had all the girls audition for [The Little Mermaid]. I don't know if I ever would have had an audition for something like that if it weren't for him."
Howard
's highlights is footage from the recording sessions for both
Beauty and the Beast
and
Mermaid
, including an extended portion of Benson performing what would become her signature song, "Part of Your World." Benson remembers this session coming at the end of a long and frustrating day, with tensions at a fever pitch due to a technical error.
"I was in the booth, and seven hours later they break to me that everything we've done today is for naught because of a microphone glitch. And that's when Howard comes in the booth with me, and everybody's at the end of a long day with a lot of emotions, so we had to get ['Part of Your World'] done quickly."
As the documentary shows, Ashman set the scene for Benson with some private on-one-one direction in the recording booth.
"He had them turn the lights down, and he told me we were going to approach this like you're on the stage. 'We're going to create this grotto, and you're all alone, and your heart is breaking.'"
According to Benson, "Part of Your World" was ultimately recorded in just two takes.
Ashman was reportedly a perfectionist, but Benson's own dedication to perfection kept her from hearing her recordings of the song until the film was finished.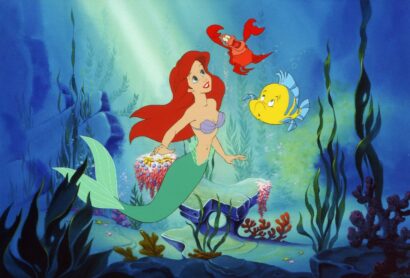 "When it came time for me to watch a screening for the first time, it was like a white-knuckle roller coaster ride for me. My stomach was turning because [Ashman] said to me, 'You are not going to like 'Part of Your World' because it's not perfect—but it's perfect for Ariel.'"
Howard is both a celebration of a brilliant storyteller and the tragedy of an artist whose life was cut short just as he was writing his most enduring successes—Ashman died from complications of AIDS in 1991, at the age of 40. This became a big part of Hahn's inspiration in making the film.
"I was impressed with the story of his artistic heroism," Hahn shared. "Through the heights of the AIDS crisis and the personal battle he went through, he was still able to create these really wonderful musical moments on the screen. There's a human story in dealing with being creative under the worst possible circumstances and how that can actually liberate you from the trials that you're suffering. It's almost like he was living through this fairy tale curse while he's writing about fairy tales."
Ashman lived to accept a Best Original Song Academy Award for Little Mermaid's "Under the Sea," but passed away six months before Beauty and the Beast was completed. Beauty would go on to become the first animated feature to be nominated for Best Picture at the Academy Awards, and also Disney's entrée to Broadway. The stage adaptation of Beauty and the Beast ran for 13 years and over 5,000 performances—Ashman did not live to see his greatest successes on stage or screen.
And yet his impact reverberates still. All three of the Disney films he worked on have been adapted for the stage—Aladdin is currently playing Broadway and the West End and is touring the U.S., in an adaptation that drew much of its "new" material from discarded songs Ashman and Menken wrote for an early treatment of the film—and Beauty and the Beast was recently re-made as a live action movie musical that is currently the tenth highest-grossing film in U.S. box office history.
Ashman is also likely a vital player in the growth of musical theatre within the zeitgeist that we enjoy today; he has been mentioned as a major influence by such modern writers as Lin-Manuel Miranda and Frozen's Robert Lopez and Kristen Anderson-Lopez, all of whom came of age when Ashman's Disney films were first hitting movie theatres.
"My hope for people watching [Howard] is that they fall in love with his passion for storytelling," shared Benson. "He cared so much about telling a story—to share that story, and get it out there with such clear precision and creativity. When someone has that much genius inside of them, it has to come out. The story has to be told."
Howard has scheduled screenings at TriBeCa Film Festival April 22, 23, 24, and 26. For more information and tickets, click here. For more on the documentary and future screenings, visit HowardMovie.com.
Logan Culwell-Block is a musical theatre historian, Playbill's manager of research, and curator of Playbill Vault. @loganculwell