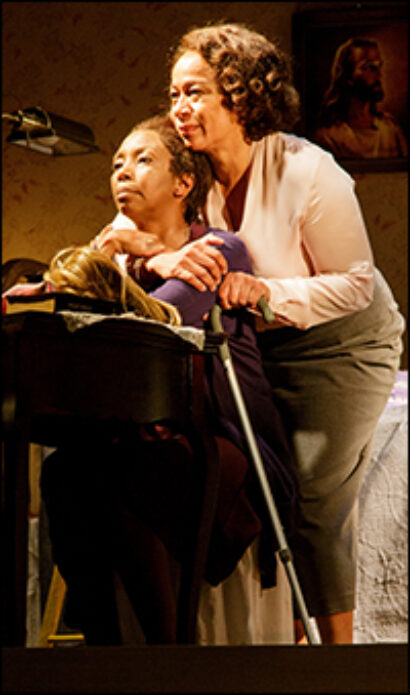 Concluding Oct. 31
While I Yet Live (Off-Broadway at The Duke on 42nd Street). While I Yet Live, the semi-autobiographical world-premiere play from Kinky Boots Tony Award winner Billy Porter, is about a young man's coming of age in Pittsburgh, PA. It stars Tony Award winner Lillias White, Emmy Award winner S. Epatha Merkerson, Elain Graham, Sheria Irving, Kevyn Morrow, Sharon Washington and Larry Powell. "This play is a love letter to my mother, my sister, and the women who raised me," Porter said in a statement. "Reflecting on my own life experience as a gay, black, Christian man, and survivor of abuse, I wanted to write a play that was about family, faith and the healing power of forgiveness, three things very necessary to move forward and make change in your life. Change is possible, but it takes patience." Visit PrimaryStages.org.
Concluding Nov. 1
The Killing of Sister George (Off-Broadway at Theatre Row's Beckett Theatre). TACT/The Actors Company Theatre presents the groundbreaking drama The Killing of Sister George, which explores sexual identity, power and politics in a changing world. The cast includes TACT co-artistic director emeritus Cynthia Harris, TACT company member Margot White and guest artists Caitlin O'Connell and Dana Smith-Croll. "In The Killing of Sister George, gin-swilling, cigar-chomping June Buckridge plays the beloved Sister George on the popular BBC Radio drama, Applehurst," press notes state. "When it looks like BBC executives might kill off Sister George to raise ratings, June's precarious personal world heads into a tailspin." Visit TACTNYC.org.
Concluding Nov. 2 Bedbugs!!! (Off-Broadway at the ArcLight Theatre). Bedbugs!!!, the musical that was acclaimed during both its 2008 run at the New York Musical Theatre Festival and its subsequent developmental run Off Off-Broadway, includes Chris Hall as Cimex, Grace McLean as Carly, Nicholas Park as Burt and Brian Charles Rooney as Dionne Salon with Danny Bolero, Tracey Conyer Lee, Barry Shafrin, Courtney Bassett, Gretchen Wylder and Colin Scott Cahill. Bedbugs!!! was penned by Paul Leschen (composer) and Fred Sauter (lyricist/ bookwriter). "In this girl-meets-bug -sci-fi-rock-musical-comedy, Carly, an exterminator, is hell-bent on avenging her mother's bedbug related death," according to press notes. "In an effort to permanently rid the city of its infestation, she accidentally mutates the pests into an army of blood-sucking, human-sized rock gods." Visit BedbugsMusical.com.
A Time for Singing (Off-Broadway at the York Theatre Company at Saint Peter's). The York Theatre Company's production of A Time for Singing, part of the Fall 2014 Musicals in Mufti series, features a 14-member cast, including Glenn Seven Allen, Wilson Bridges, Dylan Boyd, Preston Truman Boyd, Madeleine Doherty, Steve French, Ben Gunderson, Gus Halper, Joe Kolinski, Sara Killough, Analisa Leaming, Barbara Marineau, Brian Murray and Gordon Stanley. A Time for Singing, according to press notes, "examines the lives and loves of the citizens of a South Wales mining town. Virtually unheard since its brief Broadway run during a New York newspaper strike in 1966, the show is a tapestry of choral riches and operatic grandeur." Visit YorkTheatre.org.