*
Being paid to yell at your mother might sound like a dream job to some, but for Mamie Gummer, it was a cause of anxiety.
Gummer stars in the new Diablo Cody movie "Ricki and the Flash." Directed by Jonathan Demme, the drama-comedy follows Ricki (Streep), an aspiring rock star and leader of the band The Flash, who was once known as Linda, wife to Pete (Kevin Kline) and mother to Julie (Gummer), Joshua (Sebastian Stan) and Adam (Nick Westrate). Living in Los Angeles and long estranged from her Indianapolis-based family, Ricki is reunited with them when Julie is abandoned by her husband and Pete asks Ricki to visit.
"Ricki and the Flash" marks the first time Gummer and Streep have collaborated on a film since Gummer's childhood, when she made an appearance in "Heartburn." They both appeared in 2007's "Evening," with Streep playing the adult version of Gummer's character. The two also shared the stage in Gummer's early 20s when they read a scene from Wendy Wasserstein's Third, an experience that Gummer described as "very nerve-racking and kind of traumatizing."
"I was very young, 24-25. It was a bit intense. It felt like some kind of announcement, and I definitely was quaking in my shoes — probably heels that probably didn't fit." Audiences of "Ricki and the Flash" first meet Julie when she storms down a flight of stairs and greets her mother with a lengthy slew of vicious words — a scene that Gummer was apprehensive about shooting.
"I was trepidatious about having to eviscerate her in that way and be so nasty and rageful," Gummer told Playbill.com. "But when we wrapped on that scene and when our director called cut, I just looked at her and she had this big old grin on her face. She was the opposite of wounded."
As Julie's character survives a devastating breakup, she sinks into a deep depression. Unable to wash her hair or change her clothes, she is accompanied by her mother, embarking on some unconventional mother-daughter activities.
Gummer shared that honoring Julie's struggles while performing the lighter scenes of the movie was important and something she remained aware of throughout the shoot.
"We had to walk a very delicate line between the comedy that plays so well and so cleverly in Diablo Cody's writing, but pairing that with a really deep depression that prompts a suicide attempt was not something to be taken lightly," she said. "Playing how volatile she is and her being ready to pounce on anyone — you could see it. At any second it could turn inward and it could be self-harming."
"Ricki and the Flash" marks Cody's fourth feature film, following "Young Adult," "Jennifer's Body" and "Juno," all of which feature complex and complicated portrayals of female protagonists — something which drew Gummer to the project.
"I really loved 'Young Adult.' She writes these characters that are unapologetically sh*tty but not necessarily bad people. I think that my mom's character could easily be judged, but that's so counterproductive as an actor to judge a person. You have to defend them and figure out why they do what they do and say what they say. That's the stuff that brings us closer together generally. That's why we perform."
A middle-aged woman wearing leather pants, spike heels, multiple piercings and heavy eyeliner, Ricki is judged in the movie by her peers.
"It was a little bit unfair!" Gummer said of her mother's wardrobe. "She looks better than I do in the movie. She kind of looked like me after a ragged night out. She owned it. She really filled the role."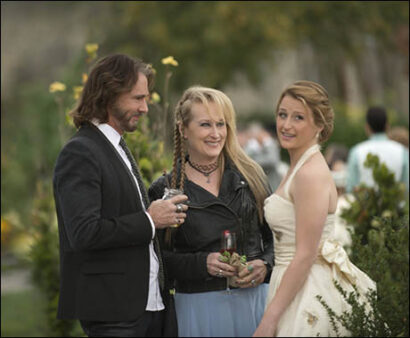 Along with Streep's acting, Gummer expressed admiration for the screenwriting lab her mother is funding for female writers over the age of 40. The lab is one of the latest attempts to address the lack of quality roles for older women in Hollywood, which has been a frequent topic of recent discussion. "I think that's fantastic. I love that people are coming out saying that it's just bullsh*t, calling bullsh*t on the whole thing," Gummer said. "It's enough. I just saw Elizabeth Warren take down the Senate GOP... She was simply obvious. It's basic equality. The wheels shouldn't have to squeak quite so loudly to get people to hear that. A lot of it is developing women to be supported, screenwriters, directors, producers. The whole thing. We just have to storm the castle, I guess."
Gummer, who made her Broadway debut in the 2008 revival of Les Liaisons Dangereuses, will return to the New York stage in September, starring in Lindsey Ferrentino's Ugly Lies the Bone as a newly discharged soldier reintegrating into society. "It's tough, it's funny, it's sharp, it's very tender," Gummer said of the play.
Following "Ricki and the Flash," which concludes with Gummer duetting onstage with Streep, is a stage musical in her future?
"I have a hard time singing in front of people," she confessed. "I go straight to memories of seventh grade Christmas concerts and 'Silent Night' solos. I get major heart palpitations."
So Gummer won't be seen at karaoke nights, offering her own spin on "I Will Survive"?
"It's hard for karaoke to ever really sound good," she said, laughing. "And if someone actually really is good at karaoke, you kind of hate them for it!"
(Carey Purcell is the Features Editor of Playbill.com. Her work appears in the news, feature and video sections of Playbill.com as well as in the pages of Playbill magazine. Follow her on Twitter @PlaybillCarey.)