While April was a great streaming month for theatre lovers, May is even better. This month, prepare to tune in to the highly anticipated new season of Netflix's Stranger Things, Disney+'s original musical Sneakerella, the Colin Firth-led thriller The Staircase, and more. Check out what's playing below.
Netflix
Corpse Bride (May 1)
Calling all Tim Burton fans! Corpse Bride is an animated dark fantasy film directed by Burton with music by Danny Elfman, his long-time collaborator. It follows the arranged marriage between Victor and Victoria, and the groom's untimely journey through the supernatural world. It features an all-star cast of Johnny Depp, Helena Bonham Carter, Emily Watson, and Tracey Ullman.

Stranger Things 4 (May 27)
The highly-anticipated addition to the Stranger Things series will be released in two parts, with the first half dropping May 27. The science-fiction horror show stars Broadway actors Gaten Matarazzo and Sadie Sink, alongside Millie Bobby Brown and Finn Wolfhard. The series takes place in the 1980s and focuses on a group of young friends amid a series of strange, supernatural events.

Hulu
Rock of Ages (May 1)
The 2012 movie musical adaptation of Chris D'Arienzo's Rock of Ages stars Julianne Hough, currently on the Broadway stage in POTUS; alongside Alec Baldwin, Russell Brand, Catherine Zeta-Jones, and Mary J. Blige. It adopts the jukebox score from the five-time Tony Award-nominated Broadway production, bringing forth music by Def Leppard, Journey, Poison, Guns N' Roses, and Joan Jett.
Candy (May 9)
This new drama follows the real-life crimes of convicted killer Candy Montgomery, starring Jessica Biel in the lead role. The 1980s housewife is accused of murdering her friend, Betty Gore, after having an affair with Betty's husband. The cast comprises Biel, Melanie Lynskey, Pablo Schreiber, Timothy Simons, and Tony nominee Raúl Esparza. The limited series contains five episodes and will be released over a 5-day event, starting May 9.
Amazon Prime
Emergency (May 27)
Following its festival circuit run and its theatrical release May 20, Emergency will land on Amazon Prime May 27. The satirical drama tells the story three college students who find an unconscious woman in their apartment. They try to seek help without alerting the police or other bystanders, in fear of retaliation. The movie stars Sabrina Carpenter who made her Broadway debut as Cady Heron in the Mean Girls in 2020, along with RJ Cyler, Donald Elise Watkins, and Sebastian Chacon as the core trio.
Disney+
Sneakerella (May 13)
Directed by Elizabeth Allen Rosenbaum with music by Elvin Ross, this musical comedy is a modern re-imagining of the classic tale Cinderella. It follows Chosen Jacobs as aspiring sneaker designer El and Lexi Underwood as the daughter of a sneaker tycoon.

HBO Max
Spring Awakening: Those You've Know (May 3)
The Spring Awakening cast reunited November 15 for a one-night-only concert in support of The Actors Fund, which became the basis for this HBO documentary that showcases the reunited original cast and creative team at rehearsals, in their homes, and backstage with performances from the reunion concert, newly filmed interviews, archival video, and photographs. It features the entire original cast, including Jonathan Groff, Lea Michele, and John Gallagher, Jr., along with lyricist and playwright Steven Sater and composer Duncan Sheik.

Related: Which Other Spring Awakening Role Would Original Stars Jonathan Groff, Lea Michele, John Gallagher Jr. Like to Play?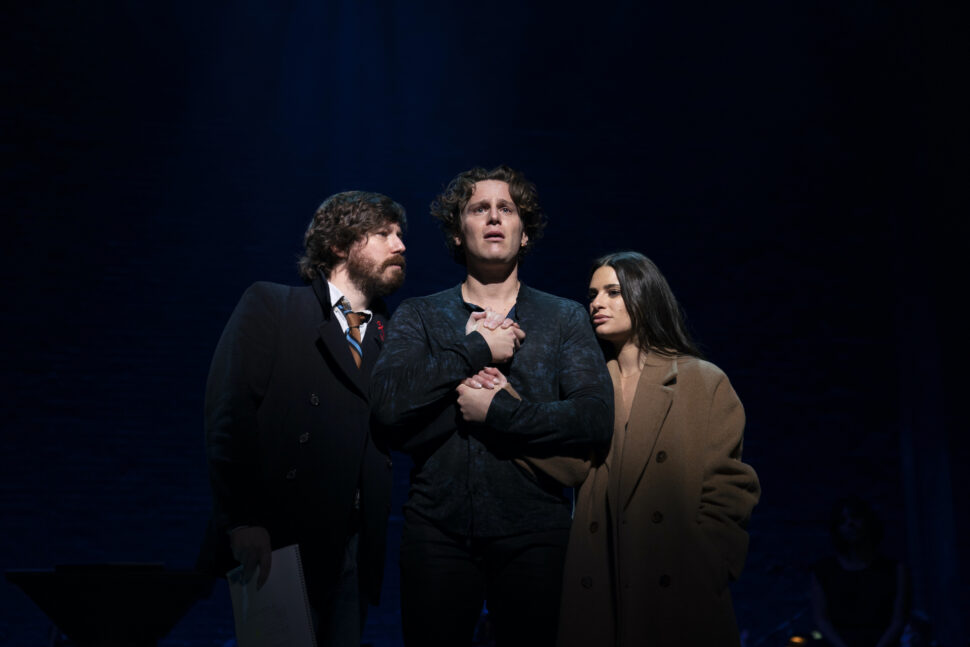 The Staircase (May 5)
Inspired by a true story, this true crime drama stars stage and screen actor Colin Firth as the controversially convicted killer and Toni Collette as his late wife. The limited series contains eight episodes and follows the crime novelist as he is accused of murdering his wife after she is found dead at the bottom of a staircase.