Inspired by the popular webcast series Verzuz, Broadway Advocacy Coalition will celebrate Tony-nominated stage veterans Norm Lewis and Joshua Henry in their second annual Broadway VS event, live streaming from New World Stages June 20 at 7:30 PM.
"Verzuz was created during the pandemic by hip hop music producers Swiss Beats and Timberland to celebrate fellow Black artists' catalogue of music poised as a friendly battle. My personal favorites were Brandy and Monica, and Gladys Knight and Patti LaBelle," says BAC co-founder and Broadway VS producer Christian Dante White. "BAC was inspired by this celebration of Black music and we decided we'd bring it to our Broadway industry to celebrate Black excellence."
The event, following last year's showcasing Lillias White and André De Shields, will be hosted by Amber Iman and feature a conversation between the two Tony nominees, in addition to songs from their stage careers, including music from Once on This Island, Carousel, and The Little Mermaid. Despite the competitive nature of the event, White says "they're both winners."
"They are huge titans in theatre and we are honored to celebrate both of their epic catalogues. It's impossible to shine a light on each hit of theirs, but we put together a digestible tribute for both of them."
However, that does not mean the game-aspect does not enrich the program. "It gives us room to be creative and more interactive with our audience," says White, before explaining that his favorite part of last year's stream was the live chat feature offered through YouTube. "We couldn't physically be in the room to honor Lillias and André, but the chat made us feel like we were. Amber was brilliant at engaging with the fans during the show. I'm excited to see what the chat will be like this year."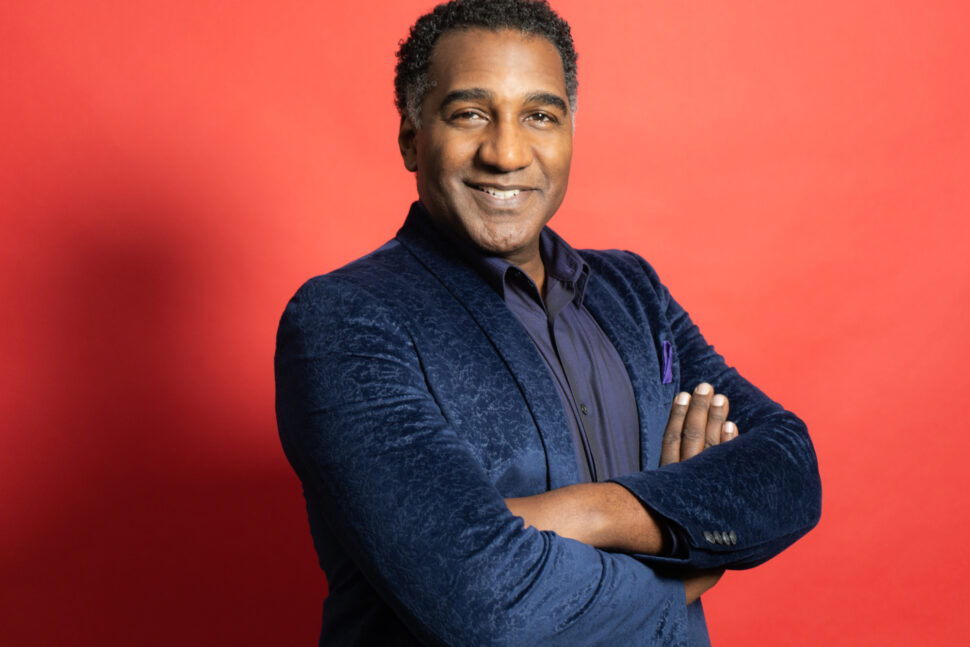 While the streamed portion of the night will be bustlin', Broadway VS will also cater to a live audience who have been invited to dress to the nines. "We did our best to invite several Black male theatre artists and theatre staff to come together to celebrate these two Black men," says the co-founder. "We wanted Norm and Josh to see a sea of fellow Black men in theatre celebrating them. Also, we invited everyone to dress up in their finest so I'm excited to celebrate and see all the looks. The Black theatre community in NYC is like no other, and it's always special to have events like this where we come together in love."
Lewis' stage credits include Chicken and Biscuits, The Gershwins' Porgy and Bess, The Little Mermaid, Amour, The Wild Party, Chicago, Miss Saigon, Les Misérables, Sondheim on Sondheim, Once on This Island, Side Show, and portraying the title character in the Off-Broadway production of Sweeney Todd: The Demon Barber of Fleet Street at the Barrow Street Theatre. In 2014, he made history as the first African American Phantom in The Phantom of the Opera on Broadway.
The actor recently starred in Spike Lee's Da 5 Bloods and FX's Pose. Other screen credits include Women of The Movement (also starring Adrienne Warren), Apple TV's animated series Central Park, and NBC's Jesus Christ Superstar Live in Concert!, alongside John Legend, Tony nominee Sara Bareilles, and Alice Cooper.

Henry is currently in Apple TV's See and previously starred in Lin-Manuel Miranda's Netflix adaptation of tick, tick...BOOM! His stage credits include Violet, Carousel, Waitress, The Gershwins' Porgy and Bess, The Scottsboro Boys, American Idiot, In the Heights, Bring It On The Musical, Off-Broadway's The Wrong Man at MCC Theatre, Hamilton in Los Angeles, and he will soon be seen in the Broadway transfer of New York City Center's Into the Woods.
To help BAC reach its fundraising goal of $100,000 and learn about its programs, including its scholarship supporting the next generation of leaders of color On-and-Off Broadway in partnership with Cody Renard Richard, its REP workshop and Change Agent Trainings to give change-makers proper tools and support, and its Theater of Change course taught at Columbia Law School, visit BroadwayVs.com and BwayAdvocacyCoalition.org.
Revisit the careers of Norm Lewis and Joshua Henry's ahead of Broadway VS in the gallery below.