This week Playbill catches up with Omar Baroud, who plays Clifford Bradshaw in the hit London revival of John Kander, Fred Ebb, and Joe Masteroff's Cabaret at the Kit Kat Club. At the April 10 Olivier Awards, the revival won seven awards, including Best Musical Revival. The seven wins make the production the most award-winning revival in Olivier history as well as the first show to win awards in all four musical acting categories.
Baroud has also been seen on stage in You Bury Me (Paines Plough), As You Like It (The Watermill), A Song at Twilight (Royal Bath), All Places That the Eye of Heaven Visits (Shakespeare's Globe), Shirleymander (The Playground), and The Last Ones (Jermyn Street), while his screen credits include Wedding Season, Baptiste, and The Innocents. Baroud also wrote After Elijah, winner of the Stiles + Drewe Prize.

Checking In With… Rent Tony Winner Wilson Jermaine Heredia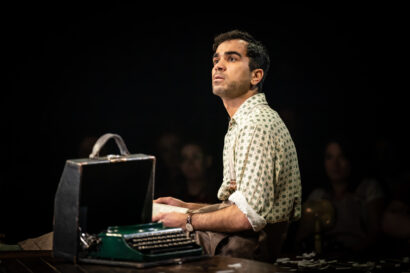 What is your typical day like now?
I wake up, listen to some Kacey Musgraves or Frank Ocean, depending on how melancholy I want my coffee to taste that day. The show is quite the sensory overload, so try my best to do the opposite during the day, whether that's staring out my window while my coffee gets cold or spending a bit too long in the world foods aisle of the supermarket. The most menial things are the most satisfying as the minute I enter stage door, it's a kaleidoscope of colors and energy that rushes through. That gorgeous theatre with its beautiful people offer such a fiery boost, that really, all I need during the day is to be a bit of calm water.
How has playing this role affected you?
Cliff entered into my life as a bit of a blessing. I think this is gonna be vomit-inducing, are you ready? He's taught me a lot about myself. What John [Kander], Fred [Ebb], and Joe [Masteroff] do so beautifully is get straight to the core of these characters' hearts. A lot of my personal journey aligned with Cliff's journey in the play, and as humans I think we are very good at complicating things that are sometimes very simple. There are certain truths in this piece that are laid very bare. I'm very thankful to be playing him and learning a lot while doing so.
How do you think this production differs from the previous revivals of Cabaret?
It's hard to answer this without spoiling too much, but I think the one thing this production does, that I will forever hold close to my heart, is the beautiful space it allows queerness to occupy. These Kit Kat Clubs were havens for anyone who felt different, without judgment or stereotyping. Sexual liberation was a big part of those safe spaces in Europe in the '30s, and it is exhilarating that this production embraces the queer bodies involved in paving the way for many of our freedoms today.
Are there any parts of your role or the musical that seem particularly poignant/relevant following the events of the past two years?
Sally exclaims, "But what has that to do with us?" in Act 2. It is such an important question that this piece offers up. I think the more connected we become, the more apathetic we incline to lean. The world seems to mimic that portrait mode on your phone, where your surroundings are blurred and all you can see is yourself. But this piece urges you to notice what is happening around you. I think many of us are still blind to the warning signs, including me. Especially when the signs come from far away. Apathy is a virus, but I believe with all my heart that all it takes is noticing when things go awry. As long as you see it, it will be hard for them to keep spreading it. That's why stories like these are important. This is why I love what I do. Stories make us see.
Checking In With… Paradise Square Star Nathaniel Stampley
During this time of reflection and re-education regarding BIPOC artists and artistry, particularly in the theatre, what would you like people (those in power, fellow artists, audiences) to be aware of?
When it comes to BIPOC artists, especially our non-binary and trans siblings, we need to understand that the systems we have in place are not very accommodating, and to allow the time to talk about how we implement change. I'd like to get rid of this notion that you might have "good intentions." Good intentions don't lead to change; understanding that what we have in place is based off antiquated ideas does. From the very first conversation that will lead to a show being made, we need to understand that the way we have always worked excludes a beautiful set of people. Representation is not having a few BIPOC artists on stage. Representation is all-encompassing, from the space in which you create the story all the way to who can see the story. It is great our BIPOC bodies are more visible, but what about our minds? Art has and should be the one to lead this change.
What, if anything, did you learn about yourself during the past year-and-a-half that you didn't already know?
When it all stood still these past years, it felt like a massive beaming spotlight shone down and highlighted every imperfection, doubt, and anxiety I had about myself and my career. It was overwhelming. It brought up things I thought I'd overcome. The beautiful thing about seeing your shadows so clearly is that they become less daunting and, like old skin, start to slowly peel off. I've really learned to be very honest with myself, especially with the parts and thoughts I struggle with. It's in those moments of honesty I have found myself understanding how I can love myself and the people around me in a more authentic way.
Do you have any other stage or screen projects in the works?
I am in a very exciting, genre-busting, ridiculously hilarious thriller coming out later this year on Disney+ called Wedding Season. I play a queer character called Jackson, who is part of this very close-knitted friendship group. From the start of filming and meeting my fellow cast mates, I had to hold my tears back from laughing so much. It was so clear to me that this group of people were going to be in my life for a very long time. I can't wait for everyone to see it.
I am also writing my own musical called After Elijah, which won the Stiles & Drewe Mentorship Award and will have its first full staged reading this year at a theatre in London. It follows a mixed-race family so consumed with their final memories of Elijah that they do not realize the boy they have been hosting in their house for the past year was Elijah's boyfriend.
What organization would you recommend people learn more about or donate to during this time of change?
I have been working closely with a charity called Compass Collective in London. They deliver theatre, music, and film projects to aid in helping young refugees integrate into the U.K. I think more than anything, what they provide is a very crucial sense of family and community. Every time I have joined a workshop I am in awe of how amazingly warm the space feels. Their focus is really on having the young asylum seekers' voices heard, loudly and proudly. I urge you to check out the beautiful projects they've made, especially during lockdown. And donate! I have no doubt in my mind that these young people will be the leaders of change in the future. Please check them out at CompassCollect.com or on Instagram @compasscollect.