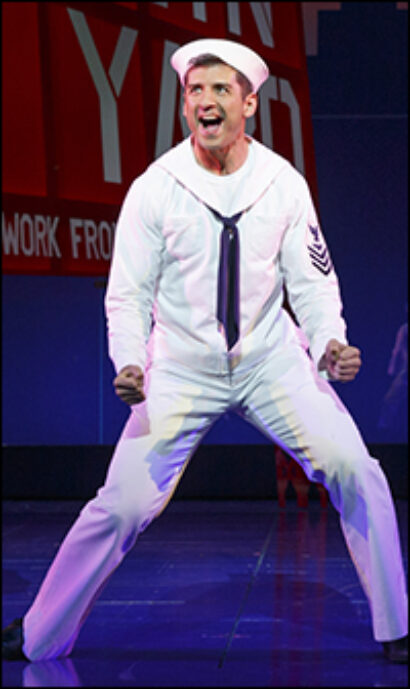 PS Classics had originally set a Jan. 20 release date for the album; however, due to holiday scheduling and the expansive nature of the recording, the revival cast album was delayed.
The iconic musical created by Leonard Bernstein, Betty Comden, Adolph Green and Jerome Robbins began previews Sept. 20, 2014, at the Lyric (formerly the Foxwoods and the Ford Center for the Performing Arts). It opened to strong critical notices Oct. 16. Read reviews here.
The complete track listing follows:
Disc One:
The Star-Spangled Banner
I Feel Like I'm Not Out of Bed Yet
New York, New York
Gabey's Comin'
Presentation of Miss Turnstiles
Come Up to My Place
Carried Away
Carried Away (Encore)
Chase Music
Lonely Town
High School Girls
Lonely Town Pas de Deux
Lonely Town Choral
Carnegie Hall Pavane
I Understand
I Can Cook Too
I Can Cook Too (Encore)
Lucky to Be Me
Times Square Ballet
Disc Two:
Overture
So Long, Baby
I Wish I Was Dead
Conga Cabana
I Wish I Was Dead (Spanish)
Ya Got Me
Ya Got Me (Encore)
Slam Bang Blues
I Understand (Pitkin's Song)
Subway Ride & Imaginary Coney Island
The Great Lover Displays Himself
Pas de Deux
Some Other Time
The Real Coney Island
Finale
Exit Music
Sound clips of several songs are also available on the PS Classics website.
Click here for more information
.
The production, which marks the 70th anniversary of the classic musical, is directed by Tony winner John Rando, who helmed the recent, critically acclaimed City Center Encores! and Barrington Stage productions of On the Town. It also features choreography by Joshua Bergasse, who choreographed the Barrington Stage production and is making his Broadway debut as a choreographer with this show.
The cast is headed by Tony Yazbeck, Jay Armstrong Johnson and Clyde Alves as the sailors on 24-hour shore leave who take on the Big Apple; Megan Fairchild, Alysha Umphress and Elizabeth Stanley as the women who steal their hearts; and Jackie Hoffman in the role of Madame Dilly with Tony Award winner Michael Rupert as Judge Pitkin, Allison Guinn as Lucy Schmeeler, Tony nominee Phillip Boykin and Stephen DeRosa.
The ensemble comprises Chip Abbott, Tanya Birl, Angela Brydon, Holly Ann Butler, Julius Carter, Peter Chursin, Kristine Covillo, Lori Ann Ferreri, Paloma Garcia-Lee, Stephen Hanna, Eloise Kropp, Brandon Leffler, Jess Leprotto, Cory Lingner, Skye Mattox, Michael Rosen, Samantha Sturm, Christopher Vo, Cody Williams and Mikey Winslow.
"The Bronx is up, the Battery's down, and three sailors are hoping to get just a little bit lucky on their one day of leave in the Big Apple," according to press notes. "From the Brooklyn Navy Yard and Coney Island to Times Square and Carnegie Hall, On the Town zigzags through New York City as the sailors and the three high-spirited young women they meet chase love, dreams, and each other during an unforgettable day in the city that never sleeps."
The score features the standards "New York, New York," "I Can Cook Too," "Lonely Town" and "Some Other Time" and are being played with their original orchestrations, performed by what is the largest orchestra on Broadway, with 28 musicians led by musical director James Moore.
The production also has scenic and projection design by Tony winner Beowulf Boritt, lighting design by Drama Desk nominee Jason Lyons, costume design by Tony Award winner Jess Goldstein, sound design by Tony nominee Kai Harada and hair and makeup design by Leah Loukas.
On the Town is produced by is produced by Howard & Janet Kagan; Severn Partners Entertainment; Bruce Robert Harris and Jack W. Batman; Paula Marie Black; Nigel Lythgoe; Michael J. Moritz Jr.; Ken Mahoney/Michael A. Alden/Dale Badway; Ambassador Theatre Group; Margie and Bryan Weingarten; Kim Schall; Michael Rubenstein; Terry, Louise and Chris Lingner; Allan S. Gordon and Adam S. Gordon; Corey Brunish and Brisa Trinchero; Stephanie Rosenberg; Domnick Laruffa Jr. and Rob Hinderliter; Neal Rubinstein/Jeremy Handelman; Lizbeth Bintz; Riki Kane Larimer; Dennis Grimaldi/Robert Sher/Mary Maggio/Hello Ent.; Matt Ross/Ben Feldman/Pamela Cooper; and Barrington Stage Company.
The Broadway revival is also offering the first-ever mobile lottery system. TodayTix allows those interested to enter the mobile lottery via the app, available in the App Store or Google Play Store. The entry period begins each day at midnight and continues until winners are notified via push notification three-to-four hours before the selected performance begins. Winners will be offered the opportunity to purchase $20 tickets and can pick up their tickets from the uniformed TodayTix concierge outside of the theatre. Lottery tickets and seat locations are subject to availability.
Tickets are available at Ticketmaster.com.
*
Numerous albums and cast recordings are also available at PlaybillStore.com.